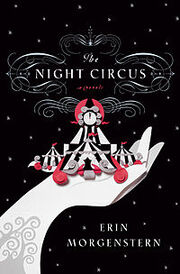 "The Night Circus" is a fantasy novel written by Erin Morgenstern. It was originally published on the 13th of September 2011 by Vintage in the US.
Author Description
Edit
Erin Morgenstern is a writer and artist who describes all her work as being 'fairy tales in one way or another'. She lives in Massachusetts.
The storyline of "The Night Circus" is split between two main narratives; the first being the history of The Night Circus itself; and the second being centered on Bailey Clarke, who slowly discovers The Night Circus and its complex history.
Interspersed within the main narratives are excerpts in which the reader "visits" the circus in the modern day.
Preceding each section of the novel is a quote from Friedrick Thiessen followed by a date. In part 1 there is also a quote from Oscar Wilde, and in Part 5 there is an excerpt from Shakespeare's? The Tempest.
Part I: PrimordiumEdit
Primordium introduces? Prospero the Enchanter (whose real name is Hector Bowen) and the Man in the Grey Suit (who is adressed as Alexander - or Mr. A.H- - by many of the characters, but his real name is never revealed). As Primordium? opens in 1873, Hector's young daughter Celia arrives at the theatre he is performing in,? ? and the revelation that she possesses magical powers prompts him to restart a Challenge with Alexander, in which Hector will train his daughter to become an opponent to a student of Alexander's choosing. In January 1874, Alexander chooses a young boy named Marco from an orphanage and trains him as his student.
The following chapters detail Celia and Marco's training for The Challenge, even though neither of them know anything about the rules, nor do they know who their opponent is. During this time, Marco begins a relationship with a girl called Isobel Martin who is learning to read Tarot cards and helps Marco with training.
In 1884, Marco becomes the assistant to a theatre director called Chandresh Christophe Lefevre, whose aim in life is to create a spectacle that is "trascendent". A year later, Lefevre gathers a team of creative people (including Alexander) to design a spectacle in the form of ? a circus - this spectacle is The Night Circus, which is revealed to be the "stage" for The Challenge. between 1885 and 1886, various elements of the circus are created - Herr Thiessen is commissioned to create the clock for the courtyard, and a mysterious woman named Tsukiko is hired as the contortionist,
Celia Bowen auditions to become the circus Illusionist, and impresses Lefevre enough to receive her own tent. However, at the audition Marco realises that she is his opponent, although Celia isn't aware of this. Learning about Celia, Isobel offers to join the circus as a fortune teller so that she can keep an eye on Celia when Marco is in London as Lefevre's assistant.?
Within this section, we are also introduced to an 11-year-old Bailey in 1897, who is dared by his older sister to break into the circus and retrieve something as proof. As Bailey breaks in, he meets a red haired girl dressed in white who gives him her glove.?
In 1902, Bailey's parent begin arguing over his future, yet he continues to think about the circus. His grandmother tells him to follow his dreams, but Bailey knows that she wouldn't be impressed if she knew about the circus.?
Part I ends with the Night Circus returning to Bailey's home.
Part II: Illumination
Edit
Part II begins on the opening night of the circus, and the simultaneous birth of twins Poppet and Widget. The circus opens to unanimous praise, starting with the lighting of the courtyard bonfire. Marco enchants the bonfire so that he has some control over the circus along with Celia, who notices the echantment being cast.
Over time, Celia and Marco each place various attractions in the circus in order to have more control over it. However, Hector thinks that it is insatisfactory and urges Celia to work harder. At the same time, Marco's relationship with Isobel becomes strained as she tries to write to him, yet he constantly enquires about Celia and her actions. Meanwhile, Celia discovers that the twins both possess strange abilities - Widget can read a person's past, and Poppet is able to see into the future. Celia decides to train them to keep an eye on their abilities.?
Between 1891 and 1892, Herr Thiessen inadvertently creates the "Reveurs" - the collective name for people who obssess over the circus, and who follow the circus wherever it goes. Herr Thiessen also becomes a close friend of Celia's by exchanging letters about the circus.
In 1895, Tara Burgess (one of the original creators of the circus) is growing increasingly disturbed by the circus and its mysteries, so she attempts to find answers. After she meets with Alexander in a hotel, Tara leaves to catch a train, but she is distracted by Alexander's argument with what appears to be a shadow, and her curiosity causes her to unknowingly walk into the path of an approahing train. At Tara's funeral, her sister Lainie talks to Tsukiko, who mentions that Tara's death was not by accident, and that cracks are starting to show within the circus itself.
Ad blocker interference detected!
Wikia is a free-to-use site that makes money from advertising. We have a modified experience for viewers using ad blockers

Wikia is not accessible if you've made further modifications. Remove the custom ad blocker rule(s) and the page will load as expected.