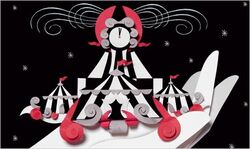 The Night Circus (or Le Cirque Des Reves) is the main setting for Erin Morgenstern's novel of the same name.  
Opening on October 13th, 1886, the circus serves as the grounds for Hector Bowen and Alexander's latest Challenge, in which two students are forced to compete against one another to prove which school of thought is more powerful. 
Ad blocker interference detected!
Wikia is a free-to-use site that makes money from advertising. We have a modified experience for viewers using ad blockers

Wikia is not accessible if you've made further modifications. Remove the custom ad blocker rule(s) and the page will load as expected.